Filter by Category
College Transitions
Career Planning
with Caroline Mitchell

Feb 6, 2020 at 1 pm
Each participant will complete the World of Work Inventory. This assessment helps individuals evaluate what is important in their future work. During the workshop, discussion will focus on how the information relates to career choices. Labor statistics and alternatives to traditional college will also be discussed.
College or Training?
with Caroline Mitchell

Feb 27, 2020 at 1 pm
Moving forward on your career goals takes planning. Which training programs are available? Where do you enroll? What applications and other paperwork needs to be completed before enrolling? How do you decipher college materials? This workshop will get you started and help you answer difficult questions about your future educational options.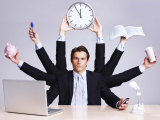 Time Management
with Caroline Mitchell

Mar 5, 2020 at 1 pm

, runs for 1 week
How to juggle everything and get it done efficiently is key to success in college. This workshop will combine time management technique with study skills to help a student learn strategies for college success. It will also include a review of vocabulary and explain who to go to for help with different issues. By knowing what the Bursar does versus what the financial aid office is responsible for can save a lot of time and energy!