Filter by Category
Computers and Technology
Adult Education Orientation May 30 & Jun 1
with Duane Dorion

May 30, 2018 at 9 am

, runs for 1 week
Our academic classes are an opportunity to improve your reading, math, and writing skills. Our classes can help you pass your high school diploma, pass the HiSet or get into college. Or just help you help your kids with homework! We also help people improve their skills to get a job. Even if you have struggled with school in the past, we can help you get over the hurdles to improve your skills. Our wonderful staff will work with you to help you reach your goals. Attend one of our orientation sessions to get an idea what we can do for you…
Will run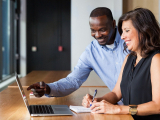 Computers for Work
with Caroline Mitchell

May 11, 2018 at 1 pm
Computer Skills focuses on specific computer skills needed for today's employees. Topics will include Windows computers, Microsoft Office, keyboarding, and Google Suite. By the end of this course, students will have the basic computer skills needed to achieve success in the workplace.
Registration Unavailable
TechHire

May 30, 2018 at 9 am
Are you interested in a career in Information Technology? TechHire is a program designed to recruit, assess, train, and place adults into Maine's IT industry in positions like computer support specialist, software, and health informatics. This 4 million dollar grant program funded by the U.S. Department of Labor, Employment, and Training Administration provides a host of services to train young adults (between the ages of 17 and 29) as well as career changers who are looking to transition into IT roles. Attend one of our academic orientation sessions to learn more about this program!